New life: an art exhibition
St Paul's Cathedral, Sale
June 2020
This exhibition was conceived late last year. The artists were to reflect on the Biblical Easter and Pentecost stories. While the art was in gestation, we had the horrific summer bushfires in Gippsland, and then the coronavirus, COVID-19. The creativity evolved and changed. During the fires we came up with the title "New Life". This seemed very apt as we moved from one crisis to another, through times of fear and anxiety, to times of hope and signs of new life. The Easter and Pentecost stories mirror our experiences in 2020.
The journey begins with Leo Wimmer's depiction of Jesus appearing through closed doors and pronouncing "peace be with you" to his frightened disciples a day or so after his death. Leo then turned his attention to the disciple Thomas who was not there that day, and was still doubtful and fearful until in this image he meets Jesus again. Kate Campbell's embroidered Waratah holds the burning of the fires alongside tinges of new life. Karen Johns sparkling heart brings out the vibrance of love. Ross Jacka uses shapes and colour to reflect on the Ascension. He captures some of the glory, complexity and relationship in the experience. Ann Miller also calls her work glory. She reflects, "Despite the pall of uncertainty and fear that hangs over the world the golden light of the ascended Christ suffuses all with hope." Jenny Batten too is captured by glory.
Jenny Batten uses a variety of mediums and focuses. Her textile work of the disciples gathered around the table with Jesus imagines a different world. Her, tongues of fire arouses the experience of Pentecost. Rita Weir's works explore Pentecost from tongues of fire, to creation, and Claire Flack spends time with Jesus and the disciples on the beach, and hears Jesus' words to Peter, 'Do you love me?' And finally Peter Batten gives us another glimpse of the fire damage. He says Pentecost is the story of the Holy Spirit blowing through our lives in new ways. This season challenges him to look through the clutter of life to the new growth beyond.
Peace be with you.
John 20: 19-31
Leo Wimmer
Mixed media on wood 280mm x 14 mm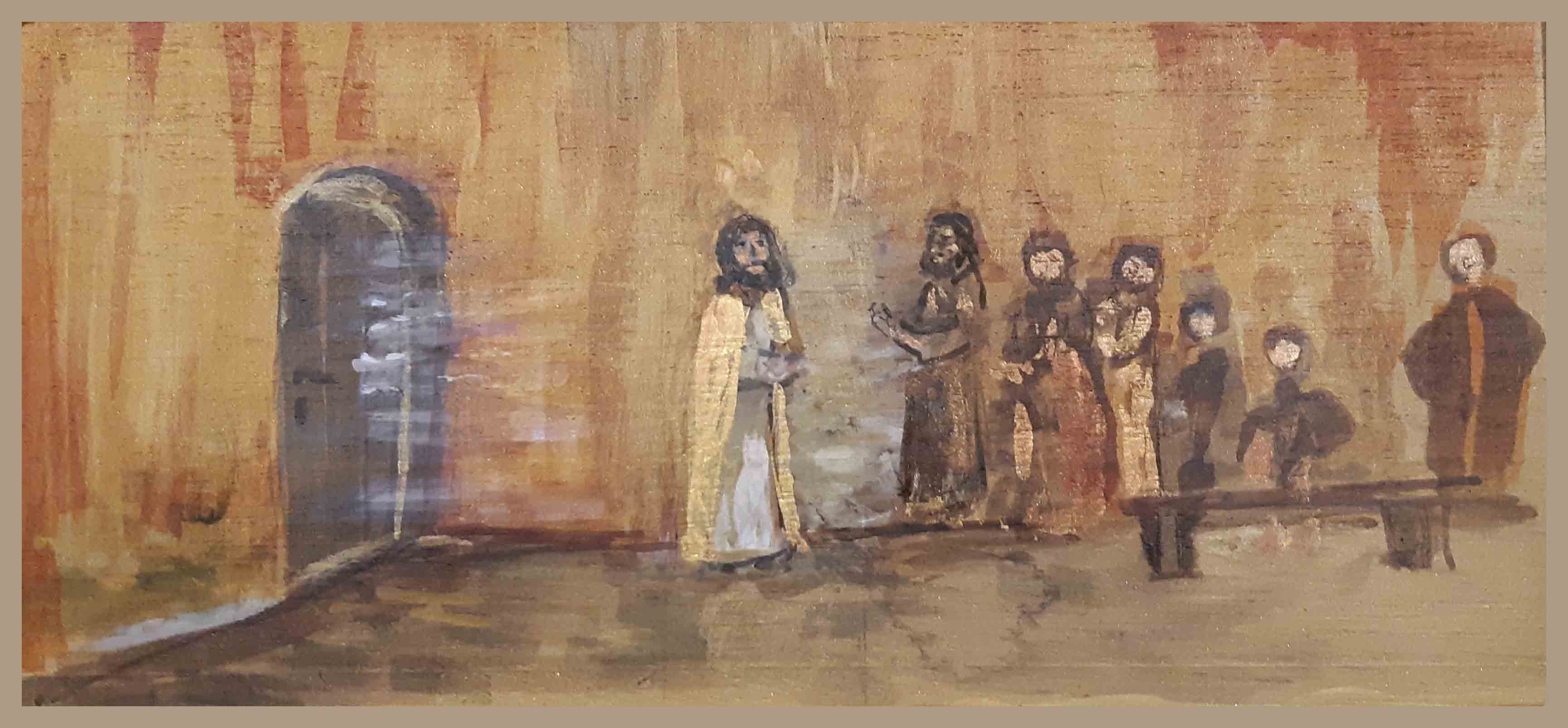 A big challenge: how does one, as an artist show how Jesus walked through the door without opening it – he is not a ghost – he is a Spirit yet he is God and human.
Doubting Thomas.
John 20: 19-31
Leo Wimmer
Mixed media on wood 280mm x 14mm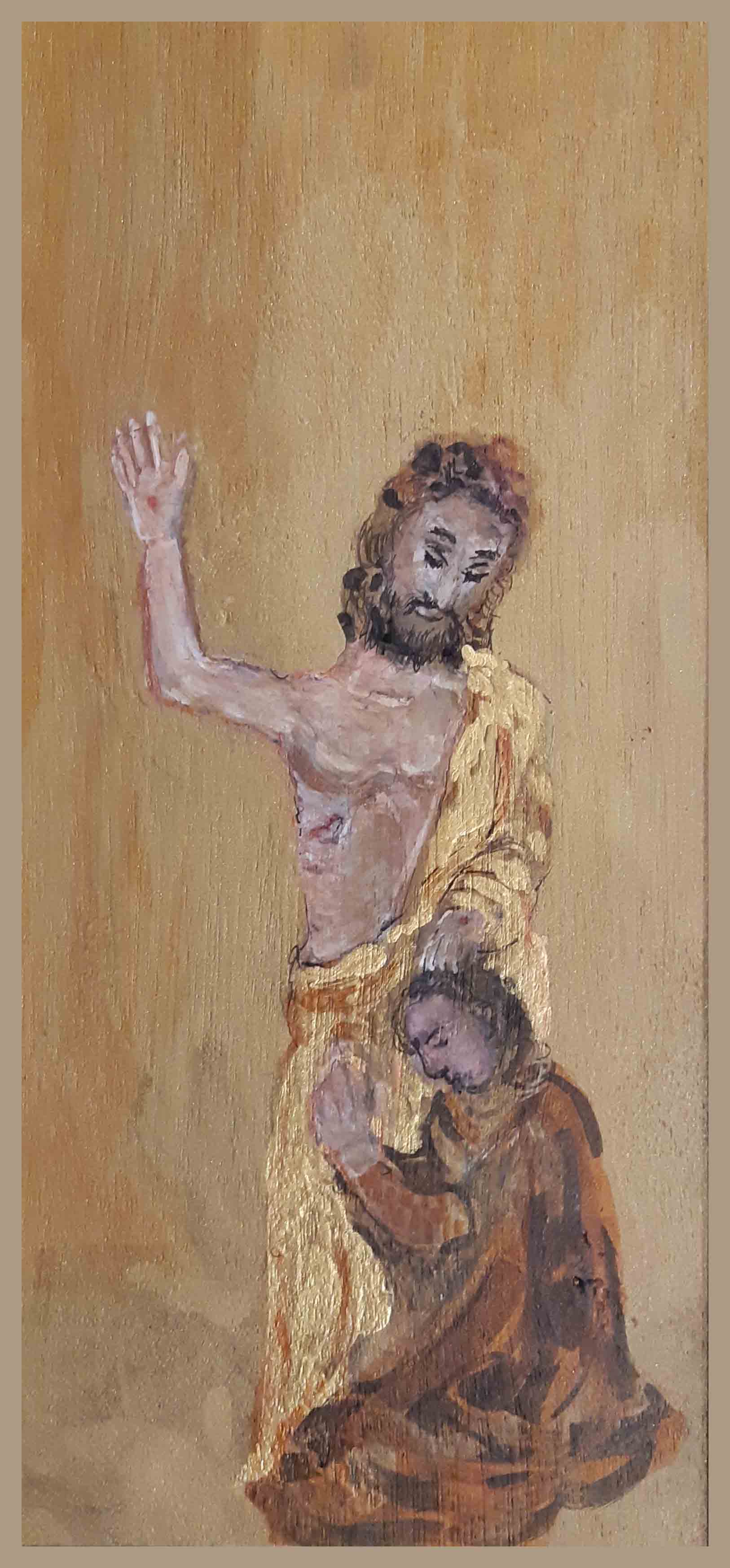 I painted Jesus holding his hand on Thomas' head at the moment after he had put his hand in Jesus wounds just before saying "My Lord, My God".
New Life
Luke 24:13-35 Emmaus
Kate Campbell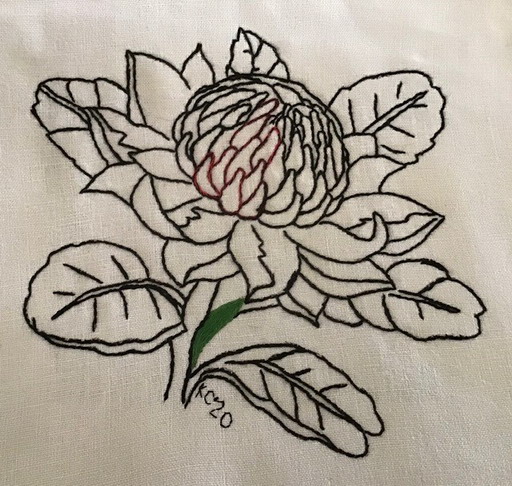 The black stitching was a response to the devastation of the bush fires and the new life that began to slowly emerge through the amazing flora in our beautiful country – there is hope in and through new life.
Love
John 14: 15-21.
Karen Johns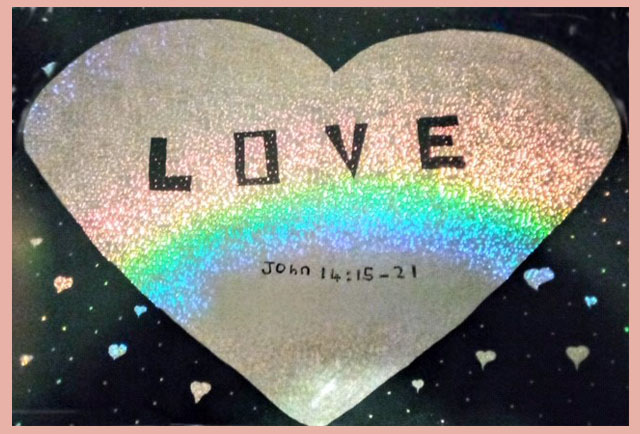 Love. God is love. When we love and are loved, we feel comforted and secure.
Through Jesus, loved ones and close friends. I cannot see Jesus. I can feel him. I still believe in him with faith, love and relationship. Jesus loves. You are not alone.
Zay - Ascension Day
John 17:1-11
Ross Jacka
Tempera on paper 595 x 420mm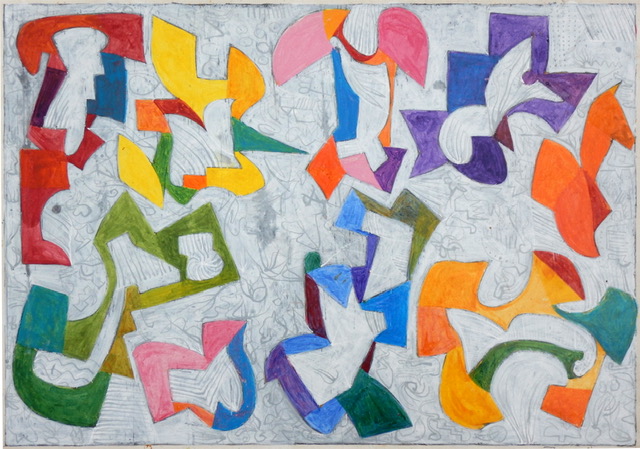 The work was discovered through a process of intuitive shape making where each shape is a relational response to other shapes. Followed by colour faceting where the same relational process continues. I have tried to capture a sense of glory, complexity and relationship that found in the passage.
www.tullycavan.blogspot.com
Instagram: tullycavan
For Sale $200
Sun turn to darkness and the moon to blood, and new life?
John 20:19-23
Ann Miller
Materials: oil and watercolour paper, collage, acrylic paint, acrylic glitter pens, found chain and padlock, pencil.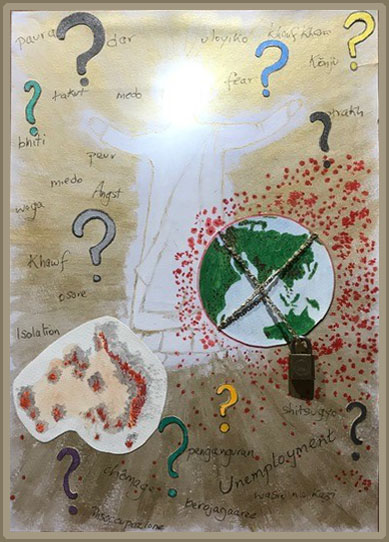 Despite the pall of uncertainty and fear that hangs over the world the golden light of the ascended Christ suffuses all with hope.


GLORY
John 17:1-11
Jenny Batten
(29cm x 22cm, multimedia collage )
"Glorify me in your presence with the glory I had with you before the world began". (John 17: 5).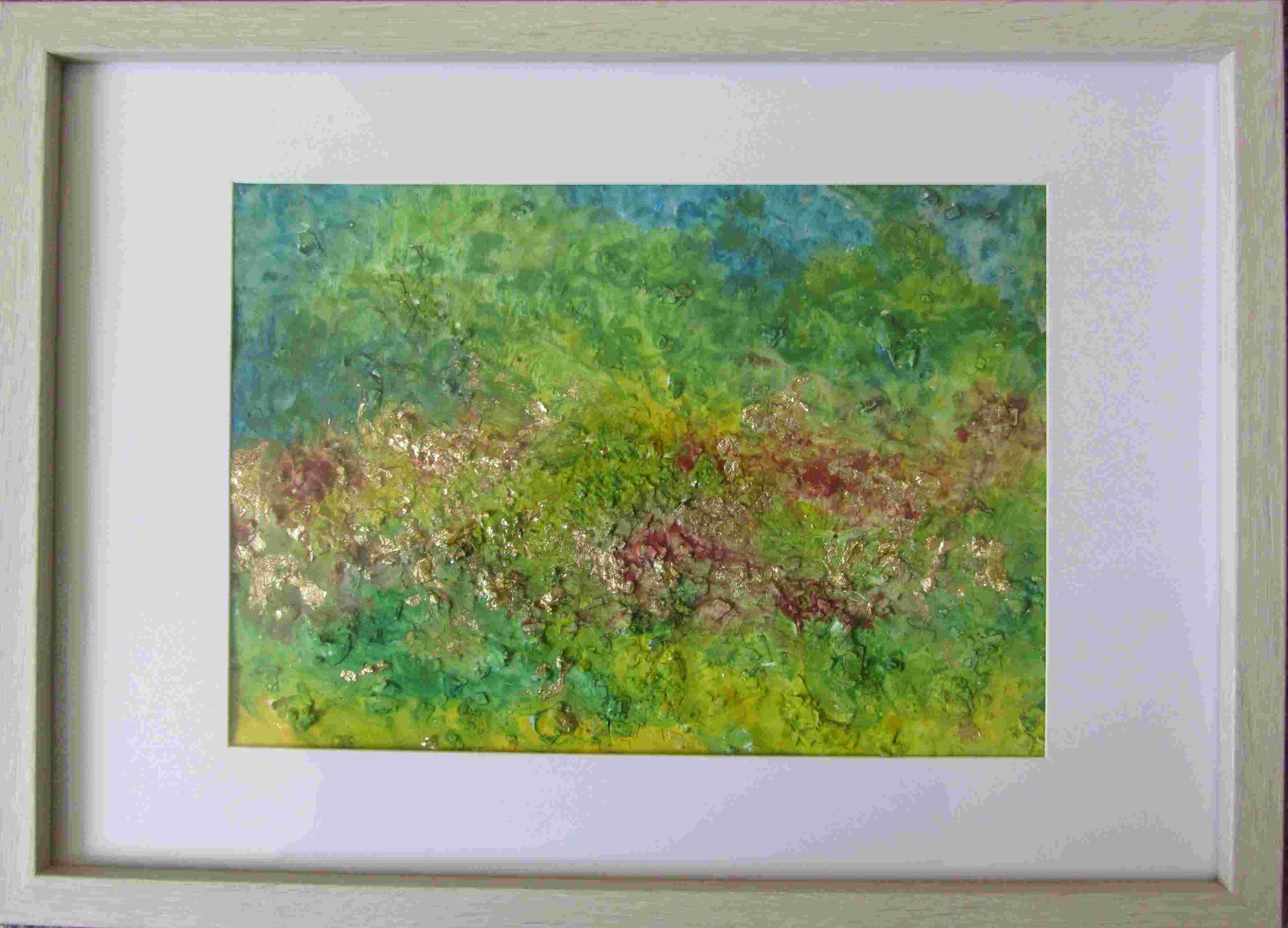 The word "glory" (Greek 'doxa') communicates a sense of honour or brightness in the way God is made known to human beings. God's presence is hidden until God chooses to reveal it. In creation we get a glimpse, a sense of what this presence feels like.
Layers of acrylic paint, gold leaf and egg shells form an image, a sense of brightness, a sense of presence, a sense of glory.
I prepare a place for you
John 14:1-14
Jenny Batten
65cm x 75cm, tapestry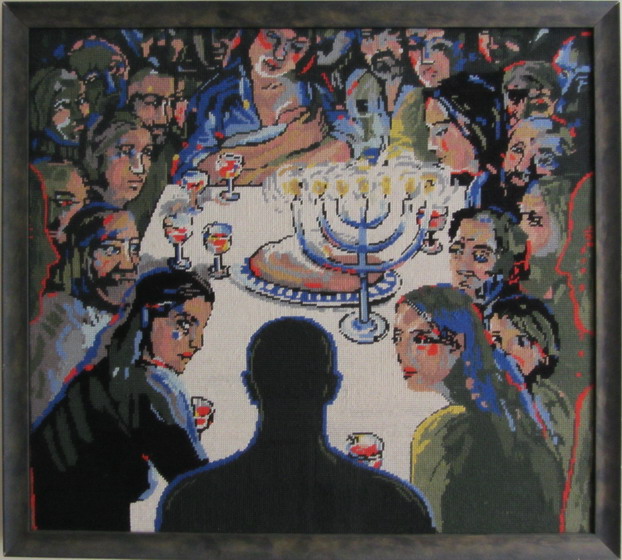 This tapestry is a representation of the artwork create by Margaret Ackland, (A Place at the Table 1993)
A limited number of tapestry canvases printed with this artwork were commissioned to celebrate 10 years of the renewed Diaconate in the Uniting Church.
As I worked on each stitch I was amazed as the faces of men, women and children appeared.
They are greeting the guest at the head of the table and I wonder, who is this guest?
As I gaze into the sea of faces, I can sense a questioning welcome - but who are the onlookers on either side at the edge, with tears streaming down their faces?
Tongues of Fire
Acts 2:1-21,
Jenny Batten
55cm diam., acrylic flow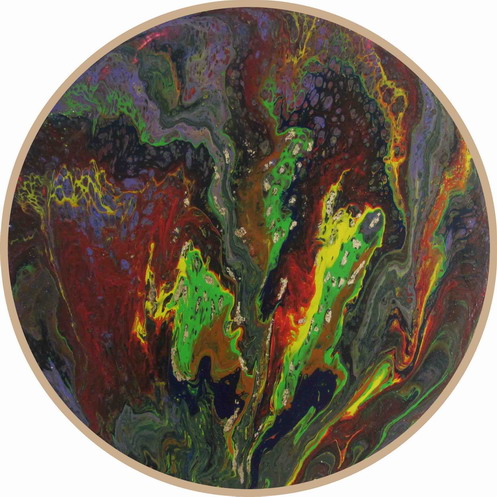 I imagine in this prophesy a transformative energy that enables a creative expression of the glory of God in an outpouring of love.
This image 'Tongues of Fire' reflects an inward and outward flow of love in the dynamic movement of colours and the eruption of the cells.
As I gazed into the work, it invited me to add a glimmer of gold in response to this transformative love.
Speaking in Tongue
Acts 21: 1-21
Rita Weir
This didactic work is symbolic.
The cloud represents the holy Spirit as a light in the transparent church and decends on the people as tongues of fire.
The text tells the story, and becomes the shape of the terrain.
The creator and provider
Psalm 104:24-34, 35b
Rita Weir
This landscape talks about God creating a fertile earth. We see the product of our labours, light and growth, and the presence of the Holy Spirit in the shape of a dove as a cloud.
Brekky on the Beach/ Do you love me?
John 21: 1-14
Claire Flack
Video link
Originally, play. Due to isolation creativity brought me to video. My Testimony, others.
Family having lunch then my granddaughter Bella singing her Love to Jesus.

Through the Looking Glass
Peter Batten
Photograph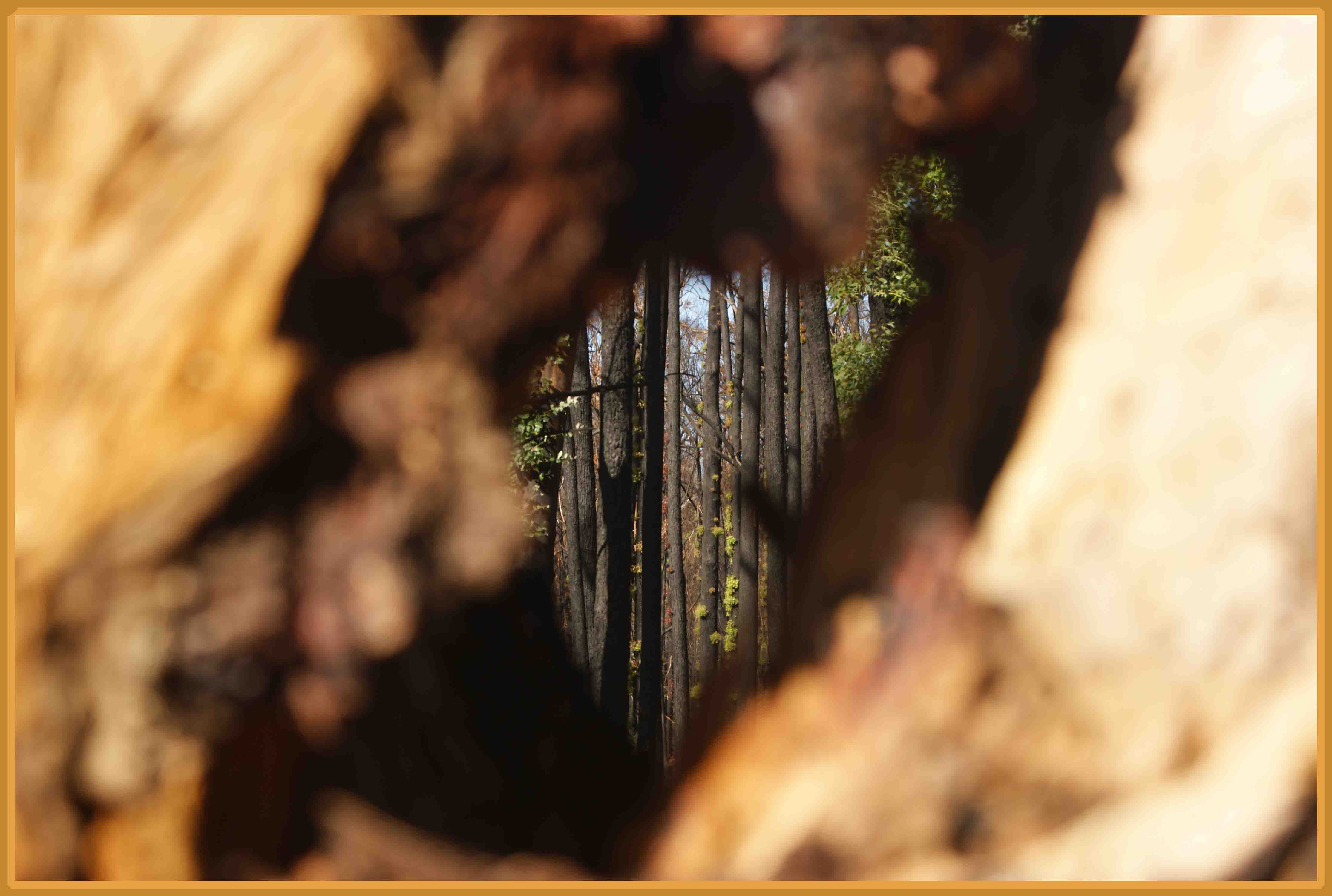 I can`t go back to yesterday because I was a different person then—
Alice (Alice in Wonderland, Lewis Carol)
This image emerges from the bushfires in January and the ongoing C19 pandemic.
Pentecost is the story of the Holy Spirit blowing through our lives in new ways. This season challenges me to look through the clutter of life to the new growth beyond.
The Tree
Circle of Friends
This tree displays the burnt bark of fire passed and green shoots of new life that the fire brings.
Formed in the shape of a cross, the tree is symbolic of the Easter story.
1. Standing lone on the ashen plain,
2. A silhouetted tree stands tall.
3. Withstanding heat of the fire passed,
4. Now waiting for rains to fall.
5. Not all's lost for this tree left bare,
6. New life stirs inside.
7. Roots set firm in nurtured soil,
8. Buds of life divide.
The Background Writing
As subtle as its message, written in the sky behind the tree is a verse.
The verse, though clear, has a biblical message within its lines. This booklet will attempt to reveal this message.
1. The ashen plain the author refers to can be correlated to Golgotha, the hill where the cross was placed, or the desert plain where Christ walked.
2. The silhouetted tree speaks of the lone cross on the hill.
3. The heat of the fire can be interpreted as the human sin that Jesus bore through the beatings and then hanging on the cross, withstanding the heat of the fire is like being put through the burning fire and the dross being burnt off.
4. Rain falling can refer to blessings or the Holy Spirit coming to Earth from Heaven.
5. The tree left bare could have three meanings. The cross left without the Saviour, the empty tomb, how much we are burnt on the outside - the inside can still have life or human kind left with no sin.
6. New life stirring inside points to Jesus' resurrection and the angel in the tomb, also new life for all humankind as Christian's.
7. Our roots set firm in nurtured soil talks about our lives as Christian's having our life set in the corner stone of Jesus.
8. Buds of life are the message or word and love of God spreading throughout the nations of the world.
© Circle of Friends 2011
The Tree
Karena Nagy
Photograph / Poem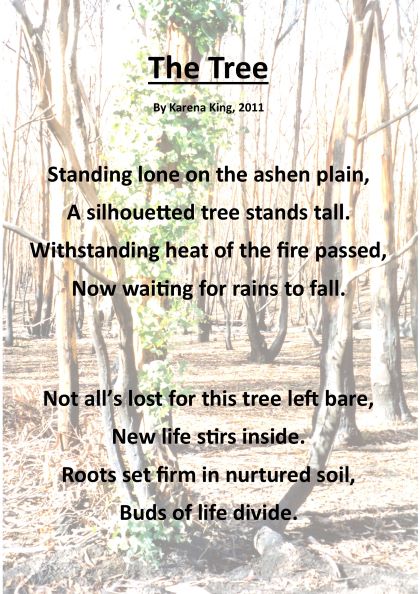 It is a rich journey of experience. I invite you to spend time with the images and pray with them to listen for God's voice in our current situation.
Dean Susanna
Biographies
Leo Wimmer began painting at a very young age, covering various techniques, always moving forward. For many years I have had a passion for religious art and writing icons.
Kate Campbell is a parishioner of St Paul's, with a passion for embroidery and other textiles, a way of prayer.
Karen loves Jesus with all her heart. "Through Jesus I can be with God. I cannot see him, he lives in me. I believe with faith and love. Feeling loved, he is my father in heaven"
Ross Jacka "A creative reaction in life has been with me as long as I can remember. I studied painting at University after some time in another working life. I persist in painting and following a visual thread that continues to intrigue me."
Ann Miller is a long time parishioner of St. Paul's. Christ, the Light of the world has always been an important image for me.
Jenny Batten is curious about the arts and spirituality and loves to explore those points of connection that give life and sustain creativity. Art making, singing and music has been a big part of Jenny's life and she loves to share that passion with others. After retiring from teaching five years ago, Jenny has completed a Masters in Therapeutic Arts Practices and is a Spiritual Director.
Rita Weir "Music, theatre and art have been my special creative voices all my life. My art works in this exhibition have the rhythm of music, the movement of theatre and the story with which I share my faith. My blessings give my spirit voice."
Claire Flack is an artist of all mediums and has a business to provide. "I Give back via Social -Entity, Aeronautics Armed-forces... Social Inclusions Community. Use gifts bestowed on me in God's word to serve others."
Peter Batten Peter is a Uniting Church Minister, Creative Art Therapist, Sacred Clown , Accredited InterPlay teacher and practitioner. He enjoys exploring the connections between contemplative practices, spirituality, art and creativity and their integration into daily life.
Karena Nagy has a long history with verse and music as an expression of her faith and written expression of feelings.